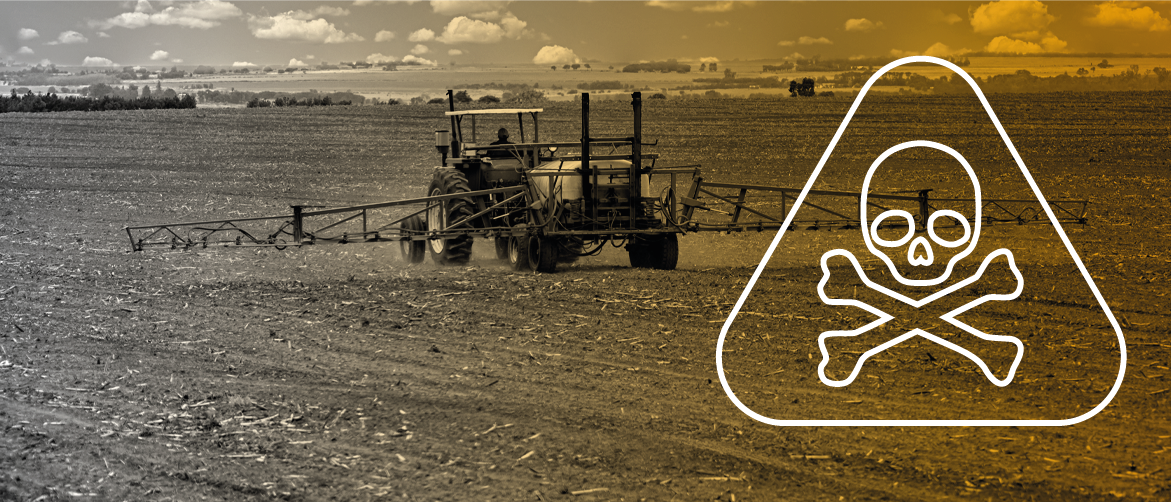 The largest pesticide companies in Europe are selling toxic pesticides to third countries which are banned in the EU.
What's the problem?
Highly toxic pesticides are prohibited for use in the EU due to their harmful effects on health and the environment. Nevertheless, European companies can legally produce, sell and export these hazardous substances to third countries. Communities there suffer from health damages and environmental destruction due to these pesticides. It is possible because of double standards, gaps, and loopholes in the EU regulation on pesticides. This is inacceptable! The health of people and animals and the environment in other countries matter as much as of people in Europe!
Through the import of food that contains residues of these harmful substances, they also end up back on the plates of EU consumers. By not introducing stronger regulation against residues of these banned pesticides, the EU is failing to protect European consumers.
What is the solution?
Europe has to stop the double standards and change the legislation on pesticides: If a substance is forbidden for use in the EU due to health or environmental risks, the production, sale and export of these products must be forbidden as well.
France has recently introduced a national law against such double standards, which will come into force in 2022. However, the industry lobby has so far successfully prevented regulation at EU level that tackle pesticide risks. One arm of the lobby is the European Chemical Industry Council (CEFIC) which in 2017 had the largest annual lobbying budget in Brussels – an enormous 12 million EUR.
What is foodwatch doing?
Bayer-Monsanto, BASF and Syngenta are making huge profits from exporting pesticides that are banned in the European Union. By selling these toxic products in third countries, the three companies bear responsibility for human rights violations and environmental damage.
foodwatch has launched an international petition urging the companies to immediately stop the production, sale and export of these pesticides. Furthermore, foodwatch has called upon the European Commission for stronger regulation on pesticide exports to protect the environment and people – no matter where they live.
International free trade deals like EU-Mercosur (Brazil, Argentina, Paraguay, Uruguay) and CETA (EU-Canada) are another instrument for pesticide corporations and EU trade partners to undermine the EU's Green Deal ambitions and the EU's precautionary principle. EU-Mercosur will support and continue to provide a basis for the trade of harmful chemicals between the trading partners. With CETA, measures to protect the environment, public health and other basic rights will be seen as trade barriers. It is possible that Canada will try to negotiate special agreements allowing exceptions for products with pesticide residues banned in the EU. foodwatch is therefore calling on the EU to stop negotiating free trade deals that damage health and the environment.
Stop the Toxic Trade!
The EU Green Deal includes bold promises to vastly reduce the use of toxic pesticides. But big pesticide corporations like Bayer, BASF, Syngenta and Corteva are lobbying hard to counter these initiatives. They also want to continue producing and exporting pesticides that are banned in Europe to other countries. This video tells the story of toxic pesticides, international trade and these EU Green Deal promises.