The updated Nutri-Score algorithm for beverages addresses several key issues and brings it more in line with nutritional guidelines. foodwatch is pleased that only water will get a Nutri-Score A and in addition to stricter rules on sugar in drinks, sweeteners will now also be assessed more strictly.
Following the revision of the algorithm for general foodstuffs last year, the scientific committee updated the Nutri-Score for beverages in April 2023. A scientific committee composed of scientists from the seven countries that have adopted the traffic light nutritional label, have developed the changes for the beverages algorithm.
So what are the changes? The scientific committee found that, in general, the algorithm for drinks already worked well, especially for drinks with high sugar content. It has improved classification for drinks with low sugar content, milk, milk-based drinks with high sugar content, plant-based drinks and drinks with sweeteners.

The revision includes:
Milk, milk drinks, fermented milk-based drinks and plant-based drinks are now included in the drinks category (previously included in general food category)
Sweeteners in drinks are given negative points so that the Nutri-Score of artificially sweetened drinks better matches food guidelines, such as the Wheel of Five in the Netherlands.
Beverages based on cocoa, coffee or chicory powder are now calculated on the basis of their nutritional declaration per 100g/ml as drunk (i.e. after diluting with milk or water). Previously, this was on the basis of 100g/ml as they were sold.
Water remains the only drink that is given Nutri-Score A. All other drinks, including those that are naturally low in calories, are thus classified as B to E.
No changes for fruit juices

Along with adjustments to various components and shifting thresholds for awarding points in the algorithm, a more adequate classification of milk, milk-based drinks and fermented milk-based drinks is now possible. Especially for those with high sugar content. It also brings the classification of sweetened drinks more in line with recommendations not to promote their consumption. There is also a better distinction between drinks based on their sugar content.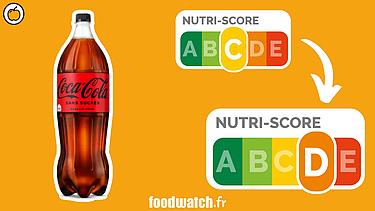 Skimmed and semi-skimmed milk are now in the most favourable Nutri-Score B after water. And it is now possible to distinguish types of milk by their fat content and distinguish them from sweetened milk drinks. For example, skimmed and semi-skimmed cow's milk are usually classified as Nutri-Score B. Whole milk gets a C. Whole milk from other animals may have a different nutritional composition (i.e. more saturated fatty acids) and be rated lower.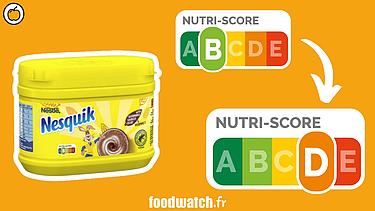 Sweetened milk drinks (flavoured milk) can no longer be classified as A or B, as was the case in the current Nutri-Score, and will be mainly classified as a D or E. Some drinks with low sugar content may fall into C. Similarly, fermented milk-based drinks (including sweetened and flavoured yoghurt) may no longer be classified as A, but will be classified as C, D or E based on their sugar content. Vegetable-based drinks (including soy, almond, oat, rice, etc.) will no longer be classified as A as was the case previously. According to their nutritional composition, they will come in B to E.
Sweetened drinks with a very limited amount of sugar (<2 g/100mL) will go to B, while those with a high amount of sugar will remain in D/E, allowing drinks to be better differentiated according to their sugar content.
Majority approval was given to the improvements and they will be incorporated into the new version of the food choice logo and be visible on the packages from 2024 on with a transition phase for products that still bear the old algorithm labels until end 2025. foodwatch would like to see the implementation of the changes happen more rapidly as the logo is on more and more foods in shops and supermarkets and it is important that confusion to consumers during the transition phase is kept to a minimum.
Nutri-Score has been developed by independent scientists and can be understood at a glance by consumers. Nutri-Score is arguably the best front-of-pack nutrional logo we currently have in the Netherlands and Europe, and a solid system is in place for its continued improvement.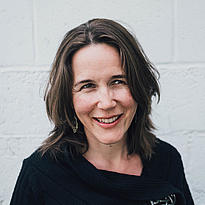 Now it is important that the Nutri-Score is made mandatory so that even the manufacturers of sweet soft drinks have to show colour. It is time for the European Commission to propose an EU-wide mandatory Nutri-Score.

Head of the Brussels office for foodwatch International