Which label is the most misleading? Voting underway in Germany
Misleading product labelling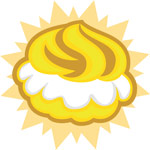 foodwatch Germany will soon be awarding its special annual prize: the Goldener Windbeutel ("Golden Cream Puff"). It is an award that no company wants to receive, as it recognises the product with the most misleading label of the year. Public voting for the award opened in October and will run until 26th November. Click here if you would like to vote: www.goldener-windbeutel.de (in German)
Before launching the public vote the staff of foodwatch Germany had some difficult decisions to make. They could have nominated hundreds of misleading products. Due to inadequate regulations and a lack of political will to make our food laws consumer friendly, many forms of food fraud are not only legal but also very common. In the end we managed to narrow down the field to a group of five nominees that we felt best illustrated the many different ways consumers are being misled in the supermarket.
The nominees for 2017
a biscuit from Alete that is marketed as suitable for babies and contains 25% sugar
a vanilla-flavoured protein drink from Bauer with unnecessary added protein designed to take more money out of the consumer's pocket
a canned oxtail soup from Continental Foods that contains no oxtail
a muesli from Kellogg's that is marketed as a "breakfast of legends" in reference to its content of ancient grains, which is a mere 2.5%
a vegetable oil from Unilever that is advertised with the claim "three times more omega 3 than olive oil" but actually contains much less omega 3 than standard rapeseed oil
Read more about the nominees on foodnavigator.com.
Exposing irresponsible marketing practices since 2009
foodwatch has been organising annual awards for the most brazen advertising lie of the year in Germany since 2009 and in the Netherlands since 2010. Former award winners include Danone's Actimel, Natrena Stevia Kristalpoeder and Capri Sun.
Many companies whose products have been targeted by this anti-fraud campaign have responded by taking the respective product off the market or changing their labelling or recipes. For example, in 2012 the award went to Hipp, a German baby food manufacturer, for its sugary instant baby teas. Shortly after Hipp won the award the company stopped producing and selling this kind of tea.
However, foodwatch cannot give awards to all misleading products. There are just too many. Therefore, foodwatch is calling on all food manufacturers to use labels that are truthful and easy for consumers to understand. In addition, foodwatch is campaigning for the introduction of legislation that would put an end to misleading advertisements and labels.